Smaartpulse
Visualize customer reviews
Customer reviews on eCommerce websites can delay decision-making and cost you sales. Help your customers 'make choosing easier' and eliminate the confusion
Multi-Aspect Sentiment Insights
ENIXTA uses a Multi-aspect Sentiment Insights (MASI) approach to extract:
Sentiment Analysis of reviews identifying Emotions and Feelings
Quantitative insights like the number of positive and negative reviews
Aspects mentioned in the reviews
Product scores more effective in taking decisive steps regarding a product
Evaluate cancellations & refunds
Take a deep dive into the why's and how's of cancellations and refund requests. Build and improve customer loyalty.
Feedback on seller ratings
When feedback reflects experience, there is an increase in trust and engagement. Boosting customer engagement improves conversion and adds value to your product.
Enixta in Action
ENIXTA SMAARTPULSE MEANS LESS CONFUSED CONSUMERS!
SmaartPulse uses NLP and Machine Learning techniques to convert your un-accessed customer reviews into actionable insights… It empowers your customers in making informed decisions by helping them find the portions of reviews that they deeply care about.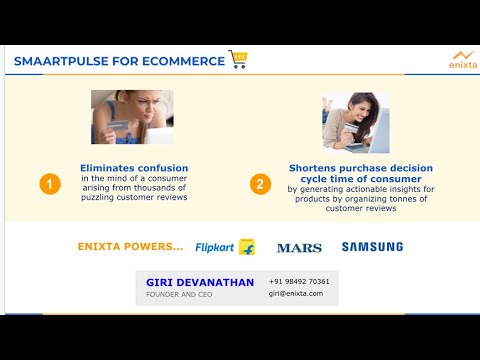 ENIXTA SMAARTPULSE MEANS LESS CONFUSED CONSUMERS!
SmaartPulse
helps to assure customers that they are making the right buying decision to match their needs. It eliminates confusion and shortens the consumer's purchasing decision cycle time by generating actionable insights for products by analyzing and organizing tons of customer reviews.
SmaartPulse
Emotions and Product Summary
A product summary is auto-generated by our system using the review corpus, thus saving human effort. It is essential because great product pages help with your search engine rankings and bring in more customers.
The Plutchik's wheel of emotions is the inspiration of Emotion Scores. The Emotion Scores influences purchasing decisions because users can relate other customers' emotions and feelings to their own emotions and feelings.
Emotions and Product Summary
Speed is important!
Yes. It just takes six weeks to deploy the Enixta tool into your workspace!!
Try our free version for a week.
Be satisfied with it, and then subscribe to the full package.
Customize the tools, select modules, and deploy!
Scale-up with Enixta
Enixta currently works with 150 categories to drive higher customer engagement in portals.
150

Categories processed everyday

85%

Sentiment analysis accuracy

4.5 million

Reviews processed in a single day

7

New categories onboarded in a week
Don't wait, now is the time for Action!
Our product experts are waiting to hear from you. Enjoy a walkthrough of the tools and see how deep insights can help you achieve goals like never before.